Popes: Past, Present and Future?
On this page we take a look at some Bible Code Research that can be performed by the CodeFinder software. The theme centers around one past, one present and a possible future Pope. Not only do we present the matrices but also the research files available for you to import into your own PC for further investigation with CodeFinder. Go to the end of the page for the free downloadable files.
Albino Luciani, Pope John Paul I
On the 26th August 1978 Cardinal Albino Luciani was elected Pope. Just 33 days later Pope John Paul I was dead. Of course many unsubstantiated rumours intimated that he had been murdered.
The following matrix is interesting therefore in the terms that appear. We have LUCIANI, POPE JOHN PAUL and the intriguing phrase BECAUSE FOR THE WORK OF CHRIST HE WAS NIGH UNTO DEATH, hinting, maybe, that his untimely demise was because of his work. As for the cause of his death the two phrases THE ITALIAN BAND and MURDERERS OF FATHERS would seem to sum up some of the most persistent rumours.

Karol Josef Wojtyla, Pope John Paul II
Following the death of Albino Luciani, Pope Paul I, Josef Wojtyla was elected as his successor, becoming Pope John Paul II. Here we have a brief matrix associating WOJTYLA with POPE JOHN PAUL along with the relevant term ARRAYED IN WHITE ROBES.
Jean-Marie Lustiger, Pope ???
The rumour mill is always very active, and despite Cardinal Lustiger's reticence it seemed for a while that he could have been elected as the current Pope. The following matrix demonstrates some hints that he could have become Pope. Consider the following terms: JEAN-MARIE LUSTIGER, POPE, CLOTHED WITH WHITE ROBES. Even a stronger hint that he could have worn the Papal White Robe is the term WASHED THEIR ROBES AND MADE THEM WHITE, foretelling a possible change from the robes of a Cardinal.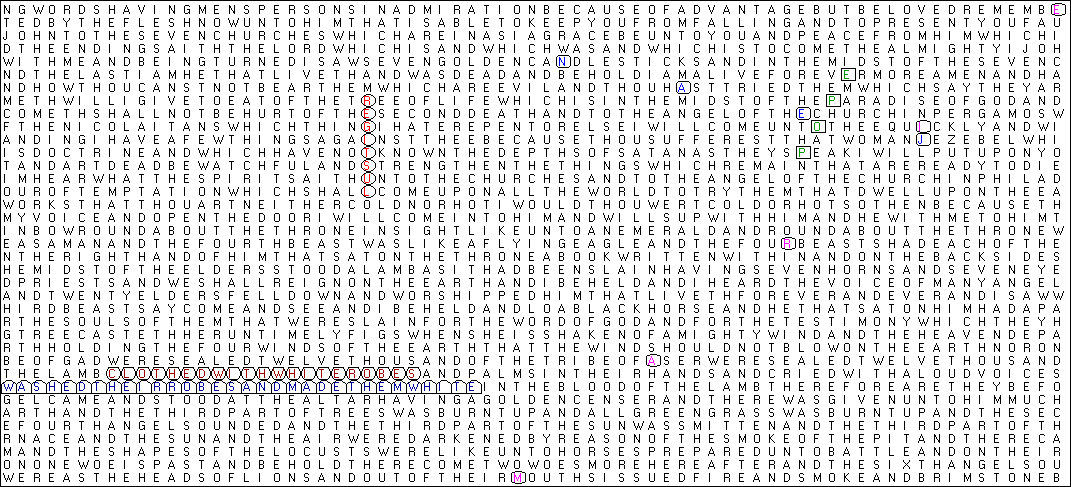 Research File Download.
Data for the above matrices is available for download and may be directly used with the CodeFinder Millennium Edition Bible Code Software. Click here to download the file popes.zip. Once downloaded, extract the three files: luciani.srf, wojtyla.srf and lustiger.srf to the export sub-directory of your CodeFinder installation. These files may then be loaded into CodeFinder with the Import Search Results option of the File Menu. Once loaded you are free to modify the file in anyway that you want and use it as the basis for your own further research.
For those that don't possess the CodeFinder Bible Code Software, you may click here for an instant download (saving $24.00 over the CDROM version), or visit our secure express online order form.
Download information for Instant Downloads is sent by e-mail directly on automated clearance of your funds. Usually this takes less than a couple of minutes.