Contents - Index - Previous - Next
---
Registration Window

---


This is a screen shot of the Registration Window.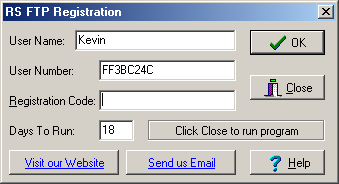 When an unregistered version of RS FTP is run, the Registration Window will be displayed. As long as the Days To Run window shows 1 or more days remaining then the user may click on the Close button to run the program.

When registering the software you will need to be issued with a Registration Code. To complete this process we will need both the User Name (as displayed in the window) and the User Number. To obtain your Registration Code you will need to either fill in and send the Registration Order Form to us or, alternatively, visit our Web Page and click on the Order link.

After you have received your Registration Code, you will need to type it in to the Registration Code edit box and click on the OK button. Assuming that the correct Registration Code is entered, the Registration Window will close and the RS FTP software will then function in its fully registered mode.

From the Registration Window you have the option of visiting our Web Site or sending us e-mail by clicking on either of the Visit our Website or Send us Email buttons.